Recently I moved my blog from a free hosting service to hostgator India and completed almost two months before. I think it is better time to write some review about hostgator India service. This is my personal experience with Hostgator India.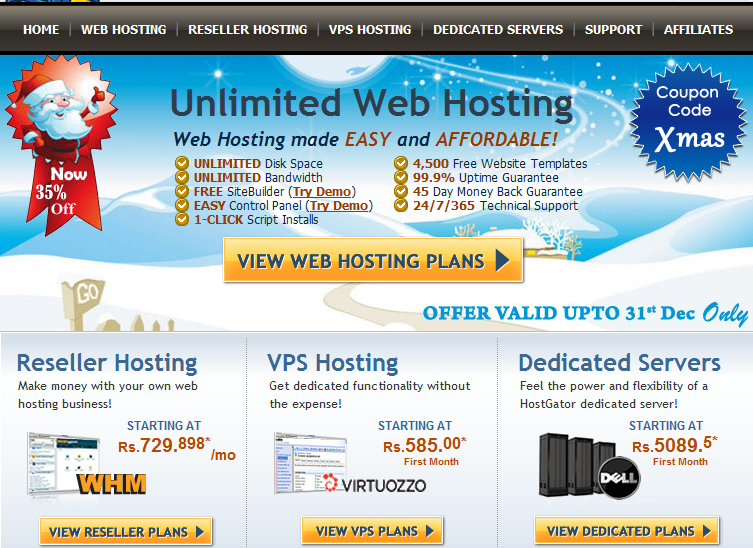 Hostgator India Review
 This is a bit a long post so read full article and get best review about hostgator India. I am starting hostgator India review from their past and experience in web hosting. Hostgator is one of the biggest hosting companies in the world. They are famous with their c panel hosting and famous tech support. They are established in the year of 1992. Now they are leading web hosting company in the world. As an example take a list of 10 web hosting companies and you will find hostgator in that list. And alt that list using different parameters like Support, pricing etc you will always see hostgator in that lists.
Earlier this year they started their branch in India. Hostgator India is also part of hostgator and they are looking for customers mainly from India. In their own words Why India
Lowest possible latency: With the servers in India, the latency when accessing FTP etc see very fast speeds compared to overseas hosted websites.
 Superfast site access: Account functions such as access to Cpanel/WHM, Emails, and the servers would be very low as compared to the current US servers
 SEO Advantages: If you have site designed for India or Asia, you get better   rankings when the site is hosted locally.
 Localized Toll-Free Phone Support in multiple languages
 Payment Modes: Ability to make payments via credit card, debit card, net banking, bank transfer, paypal and moneybookers.
I think you guys already understood advantages of hostgator india over hostgator. Now I am moving towards shared webhosting plans
Hostgator India Review Shared Web hosting Plans
Like in hostgator.com they are having three plans in hostgator india too. Hathing plan, Baby plan and Business plan. I am using shared webhosting baby plan. I think it is enough for a very good website. Below are the starting prices of all hostgator India plans. You can see some 35% discount in this particular picture. But pricing are shown excluding that 35%. And this discount will be available till 31st December 2011.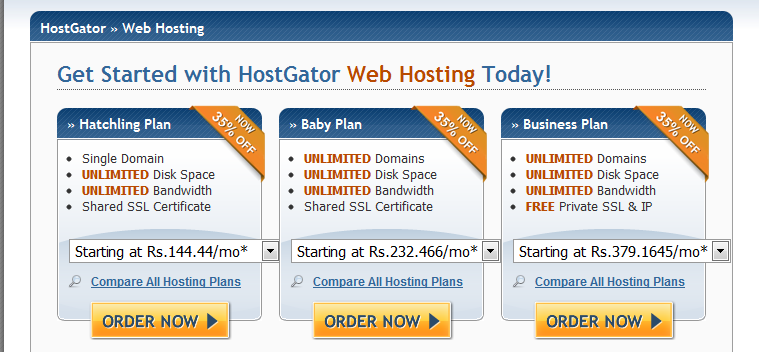 After understanding plans and pricings I strongly recommend you to buy a baby plan. You can easily host 10 to 20 websites using this plan. I am hosting my one blog and one other website using same account. Some of the other advantages of using this particular plan is unlimited hosting space, unlimited script installs, unlimited bandwidth and unlimited databases.
More about Hostgator India hosting
Recently I moved this blog from a free hosting service to hostgator India. After moving it to hostgator i found many improvements in page speed. It was something amazing and I got a Google page speed of 95 which is a very good reason for better ranking in Google. I think main reason behind it was their servers are located in Hyderabad.
Pricing and Signup with Hostgator
Prices are little bit high as compared to other Indian hosting companies. In my opinion this is somewhat affordable shared hosting service and you will become part of a great and trusted company. I think that is very important. Sign up process is very simple and you can complete with a short span of time. There are some other advantages in billing, you can pay your bills using different methods like net banking, money bookers, debit card, credit card bank transfer and direct submission in bank accounts as well.
Moving From Other Hosting to Hostgator
Moving from other hosting service to hostgator India is very easy, they transfer all your content for free from one hosting to hostgator. After signup with hostgator you need to ask in a special form to transfer your website. They will move all your web content without any down time. But you need to wait some 48 hours after completion of transfers and name server changes. Otherwise you may lose some content.
Control Panel and Softwares
Hostgator is powered with c panel control panel. You will find many services from their cpanel. I am very happy using their c panel. It is very simple to use and having many advantages. They support quick installs and fantastic tools for many php scripts. You can install wordpress on hostgator India using quick install. Have look at how to install wordpress on hostgator India. You can install popular scripts like pligg, Wikipedia using this popular quick install tools. So I strongly recommend hostgator India to host your wordpress blog. We also provide free wordpress installation those who buy hostgator hosting through this blog.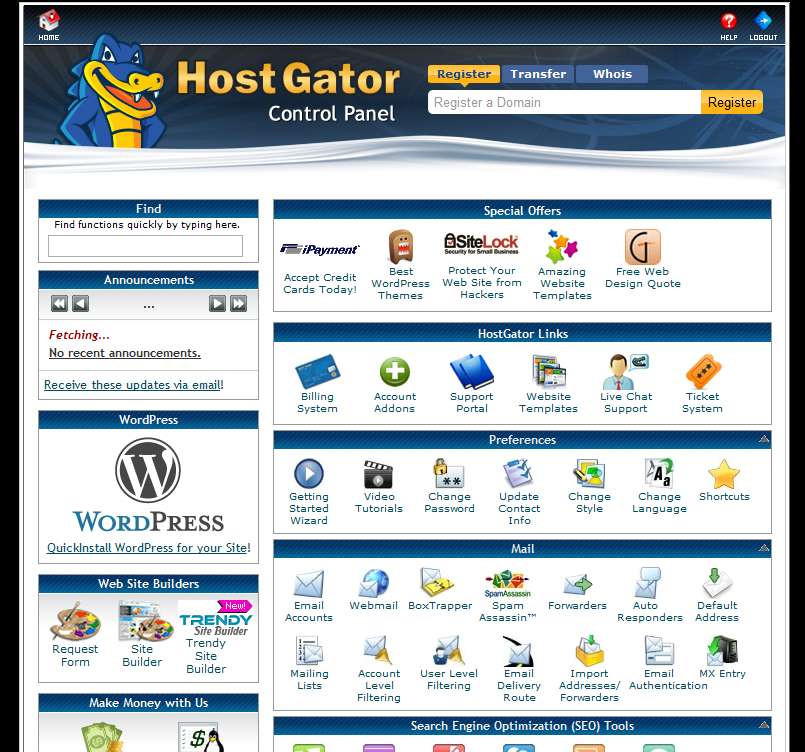 They also give some services like attracta SEO services from their control panel. And some other search engine optimization services to drive more traffic to your website.
Here I am concluding my review about hostgator India. It is not just a small thing while selecting a hosting company to host your website. In that case for bigger websites and blogs hostgator is a very good hosting platform.