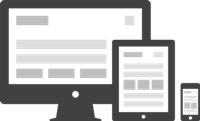 Responsive Design testing tool will help you to test your website. Understand how your website will look in tablets, PC, mobile phones including iPhone, iPad and android devices.
Responsive Web Design
Responsive web design (RWD) is a web design approach which includes crafting sites to provide best viewing experience and user experience across a wide range of devices.